I wasn't going to make any kind of announcement about my BIrthday, which took place a few days ago . . .
From my Birthday Dinner
But then my hubby did something super cool. He had our friend and Bay Area jingle writer, musician, viral video star and Song-a-Day guy
Jonathan Mann
write a song just for me! The song "Bone Marrow" is to help encourage more people to join the registry to become potential donors in Be The Match, the National Marrow Donor Program.
So cool!


Click the player above to watch the video here.
The line in the song I love most addresses the all too common myth that donating marrow is excruciatingly painful. It isn't. In fact, in some instances the donor feels no discomfort at all and in most cases it is so minimal that Extra Strength Tylenol is all that's needed to treat any discomfort.
Jonathan wrote in the song:
"Join the bone marrow registry
It's simple, quick and easy
All they gotta do is swab a cheek and you can save a life
And if you're ever a match, they'll give you barely a scratch
And just like that you'll be saving a life"
Which is so true!
Spinal Taps
For some reason a lot of people think that marrow donation is the same procedure used for administering a spinal tap (also known as a lumbar puncture) to collect cerebral spinal fluid to diagnose an illness the patient has.
Stem Cell & Marrow Donation
A bone marrow transplant is a donation from a healthy donor to a sick patient. Marrow or stem cells are harvested to transplant into a sick patient who needs healthy bone marrow to survive.
A marrow donation can be done two ways. The most common way, performed over 70% of the time, is called a Peripheral Blood Stem Cell (PBSC) donation. It works like this: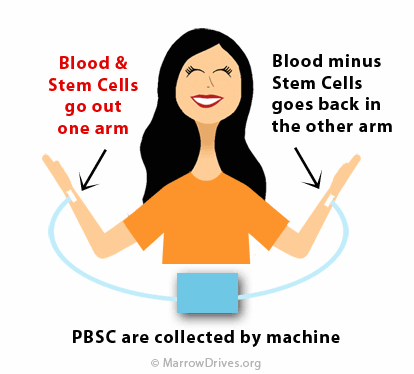 Donation Method #1
In Peripheral Blood Stem Cell donation the stem cells are harvested from the blood. This requires the donor to take a medication for several days that causes the marrow to overproduce stem cells that are released from the bones into the blood stream. The donor is then hooked up to a machine that separates the stem cells from the blood (just like platelet donation) and the blood is returned back to the donor minus the stem cells.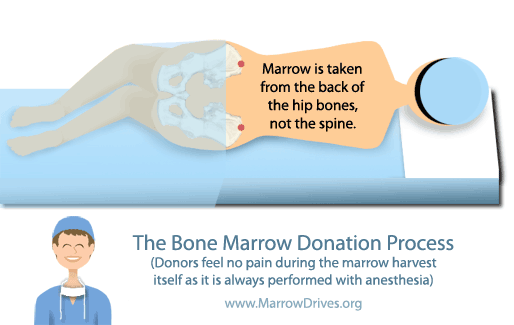 Donation Method #2
The less frequently used method is done for children who experience a higher transplant success rate when they are given actual bone marrow cells and not PBSC. Bone marrow is harvested witfrom the back of the pelvic (aka hip) bones. A hollow needle is used, with anesthesia, to remove marrow which regenerates and replaces itself. This method may cause some soreness along the back of the hips that most donors say felt like a bruise.
Advocating for the National Marrow Donor Program became part of my life after my cousin was diagnosed with a blood cancer similar to Leukemia. She was incredibly fortunate that she found an anonymous match within the national registry and received a successful transplant from a stranger a year and 9 months ago.
But others are not so fortunate. In fact, 70% of patients do not find a match in time.
So I've continued on with my volunteer advocacy work supporting Be The Match and any patients who reach out to me for help learning how to launch their own bone marrow donor drives similar to the drive I launched for my cousin Tami at
www.HelpingTami.org
. Please visit her website to learn more about the need for donors and about the donation process.
Want to know what the registration process is like? View this video my friends helped me to produce that shows exactly how you register to become a potential marrow donor. It only takes ten minutes! It's that easy.
Here in the SF Bay Area there are two active donor recruitment organizations that host donor drives. They are
Be The Match
and the
Asian American Donor Program
. It doesn't matter where you register as all registrants are added to the national and international donor pool run by Be The Match. If you are a match for a patient in another city, state or country your donation can be flown to them. You don't have to go to them to give a donation.
You can locate local Be The Match donor drives wherever you live nationwide by
CLICKING HERE to use their online zip code locator
.
Or
CLICK HERE to view ethnic focused* Bay Area drives hosted by the AADP
.
Or
CLICK HERE to order a nationwide registration kit by mail
. It's a short form and 4 cotton swabs that you need to swipe on the inside of your cheeks and mail back. That's it. The registry will contact you if you're ever a match to a patient in need.
A huge THANK YOU to my hubby and to Jonathan. You two really made my day!
---
To learn more about how the donor program and transplant process work you can visit these previous posts:
•
Meet Tami's no longer Anonymous Stem Cell Donor!
• *
Race Does Matter
•
Tami's Stem Cell Transplant is Today! Day "0"